Posts tagged
Poster

1
Tracie Ching (self-taught graphic designer and illustrator working in Washington, D.C.) has created a poster for the double feature screening of  Blade Runner / Brazil that took place at The Roxie Theater in San Francisco on the 14'th of November 2015.
You can find Tracie's artwork here at her online home and you can keep an eye on Spoke Art which will have the 18×24″ silkscreen print available for purchase sometime next week.

0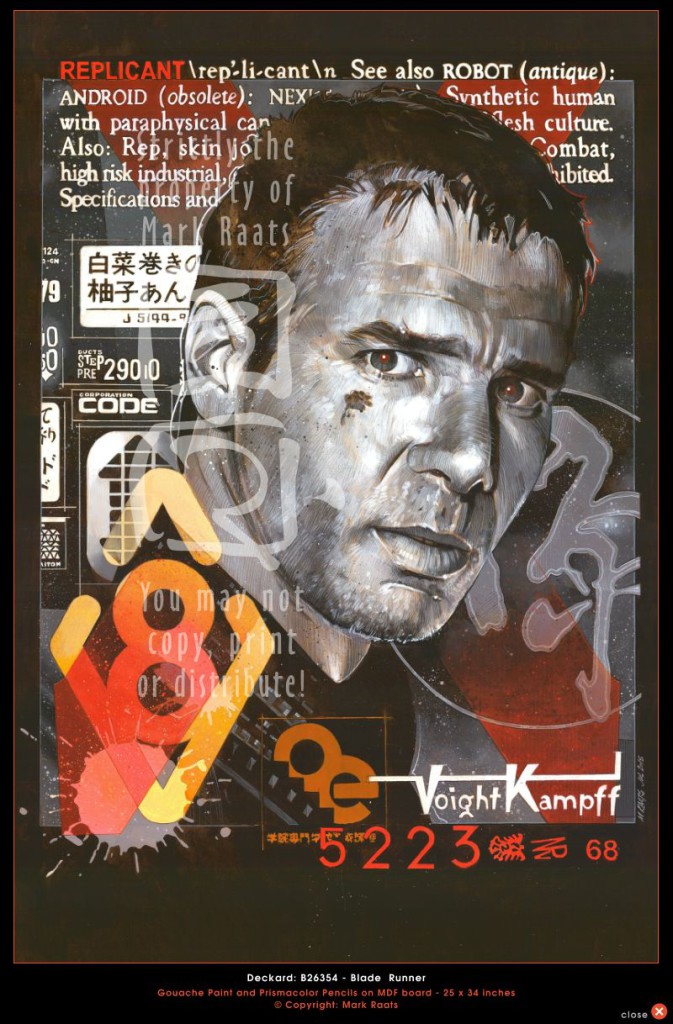 Artist Mark Raats has created another wonderful Blade Runner piece, this time with Rick Deckard as the subject of choice.
The piece is called "I'm Deckard – B26354" and was created using Gouache paint and Prismacolor pencils on board – 24 x 36 inches.
You can find more of Mark's amazing artwork at his website (His Blade Runner art can be found clicking "Hollywood" and then "Blade Runner" but be sure to check out his other artwork too. You can also visit him at Deviantart.
0
At http://candykiller.bigcartel.com/ you'll find some fantastic art by Scottish artist Brian Taylor.  Among his classic "Sci-Fi" posters which includes Alien, Aliens, The Thing and Total Recall you'll also find a fantastic Blade Runner poster.
The poster which only costs $25 (includes packaging and shipping worldwide) It's a signed full colour litho print on 140gsm silk finish paper (open edition) and the size of the print is A2 (420mm x 594mm, 16.5″ x 23.4″).
You'll find CandyKiller's truly stunning Blade Runner poster here.