Ichiban Toys, a company that creates their own Lego kits has created a stunning Lego Spinner that can be yours for $49.99 (+ postal costs), The kit comes unassembled so you have to build it yourself (The kit comes with instructions so don't worry)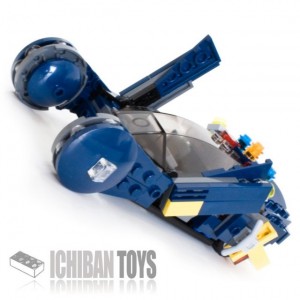 We've had requests for this model for years, and as great admirers of "Blade Runner", we knew that if a kit was to be released, it had better be perfect. Our kit is about as good as it gets – a sweeping windscreen showcasing an interior with seats and gauges. Two doors that open up, just like the real vehicle. And lights galore! Take a spin through 2019 Los Angeles in this police spinner.

Manufactured by: ICHIBAN Toys
Merchant SKU: 1030
Opening doors that pivot upwards, just like the real vehicle!
Sweeping curves and lines to capture the shape as accurately as possible!
A full interior consisting of two seats, gauge panels and a see-through floor!
Fully detailed underside for those hovering moments!
Two independently spinning wheels on the underside for road mode!
A special slot design on the underside allows it to easily connect to a stand!
Featuring many rare pieces and a lot of dark blue!
You will receive ALL of the 205 BRAND-NEW parts needed, carefully packaged in resealable polybags. These parts are all brand-new official LEGO® elements.
Heavyweight gloss-cover color instruction booklet.
Packaged in a sealed collector's box.
Dimensions (LxWxH): 6 x 3.25 x 2″ or 15.5 x 8.5 x 5cm
These kits use LEGO bricks to create the models. LEGO is a registered trademark of The LEGO Group which does not sponsor, authorize or endorse this product.
There are alot of Lego spinners available on the Internet but so far I've haven't found one that's for sale until now.
If you want a spinner or want to see more images of their Spinner kit, visit
their website